CAROL WEISMAN, PRESIDENT OF BOARD BUILDERS, IS AN INTERNATIONALLY KNOWN SPEAKER, AUTHOR, TRAINER AND CONSULTANT
Carol specializes in volunteerism, fund raising and governance. She has worked with a wide range of clients from Sing Omaha to the National Council of Voluntary Organization in London England to the Bermuda Health Care Foundation. She has served on 40 boards and has been president of 9.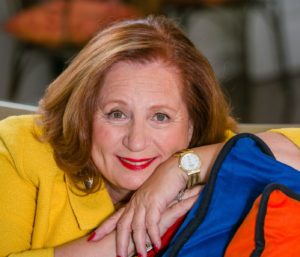 Carol began her professional career working with gangs, a marvelous background for working with boards.
She found the gangs better organized, with clearer expectations and a solid leadership training program. Although she doesn't recommend any fundraising that would end in incarceration, the gangs certainly had some "creative" ideas.
Carol has published extensively on fundraising, governance and philanthropy. Her 11th book Becoming One of the Grateful Dead: Where There is a Will, is hot off the press. She has promised to stop telling her husband that what she is working on is her last book.
Raising Charitable Children, has been continuously in print since 2006. It has been covered by The New York Times, Parade Magazine, Parents Magazine and was the cover story of Scholastic Parent and Child.
Carol won a Telly Award for her PBS special "Building a Board with a Passion for Mission." She is still trying to figure out how to mount her award on her car. She is a past winner of the CSPRC Nonprofit  Professional of the year.
Carol is currently on the faculty of Everyone Ready. She is a past faculty member of the Learning Institute for Nonprofit Organizations and was an adjunct professor at Washington University in St. Louis at the George Warren Brown School of Social Work.
Carol has a Master's Degree in Social Work from Washington University in St. Louis.  Carol was a pediatric oncology and hematology social worker at St. Louis Children's Hospital and Children's Hospital National Medical Center.
Carol lives with Frank Robbins,  her sweet, long suffering husband of 45 years. Their oldest son Frank Robbins is an engineer who lives with his wife Laura and their three high-energy children and a yard full of various animals outside of Boston,  their second son Jono Robbins, who also lives in St. Louis, is a in his 17th year as an art teacher . The dog and cat are long gone, and Carol is thinking of letting the plants die.
Carol's personal goal is to get her baby weight off before her son turns 40. She doesn't believe in rushing into some things like dieting, but she knew her husband for 3 weeks before they got engaged.
Carol serves on the boards of The Ladue Education Foundation,  St. Louis Nonprofit News. When not speaking, writing and traveling, she works out with a group of plus-sized runners called "The Chaffing Dishes."