Exit Interviews for Retiring Board Members
DON'T JUST WHACK'EM AND PLAQUE'EM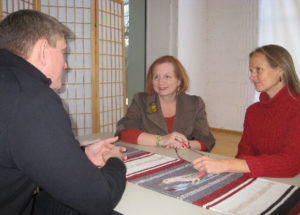 What is the smartest thing a brave and fearless nonprofit executive can do when a board member is exiting the board? That would of course be an exit interview. And yet, this is a rare occurrence. There is always a certain amount of dynamic tension between employee and employer. What makes this situation unique is that the employee is interviewing the employer who is leaving.  After three, six or even more years of working together, there tend to be three reactions to the departure of a board member:
A real sense of loss and the question, "How are we ever going to find someone that good? I am losing a friend, a mentor, a strategic thinker, a creative fundraising, a major donor, and sometimes someone who does all of this."
A deep sigh and a sense of opportunity that, now we can get someone "really good."
The question, "Is the woman leaving the tall redhead or the short blond? She didn't show up often enough for me to get to know her."
Whatever the reaction and whether the departure is because of the end of a term or because of personal or business reasons, the executive has an opportunity to learn and grow professionally as well as ensure future positive involvement with the departing board member by asking for a final meeting. You will want to have the meeting in a home or office that is private as opposed to a busy restaurant or coffee house where your conversation could be overheard. The questions to ask in this final meeting are:
Did we use your talents effectively?
If I can call you in the future, what issue should I consult you about?
What did you enjoy about your time on the board?
What would have made it better?
How can I improve as a leader?
Be ready to be open to listening. Try not to be defensive and send a thank you note not only for the board service but also for the time spent in debriefing. And when the opportunity comes up to call upon a former board member, grab it.