HOW TO GIVE A TOUR FOR PROSPECTIVE DONORS
What impression do you give you want your visitors to get when they tour your facilities?
Are all visitors treated the same? Is a funder treated the same as a potential client? Does any thought what-so-ever go into planning the outcome of a tour?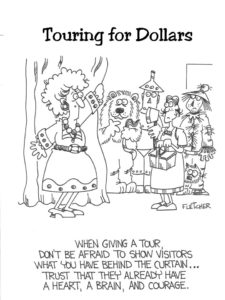 What do you want your visitor to do when they leave your agency? My husband often recounts the story of the young man who gave the tour of Earlham College. The guide clearly knew who the decision maker was, Frank's parents. Everything was pitched to them. Frank and his parent's were so impressed with this young man, that not only did Frank go to Earlham College, but Frank also followed this young man to Washington University to Medical School. That was a guy who knew how to give a tour!
You might give tours the way I got a tour of a wonderful facility for adults with autism. I was going to do a retreat for board and staff. I had a particular interest because of a relative and because I have a degree in education and a degree in social work.
I was taken on a tour by a wonderful social worker.  She talked about treatment plans. She showed me the beautiful group homes. She showed me the animal pens and told me about their therapeutic use of animal care.
At no time did she ask me what I knew about autism. Why I was there. She gave me the standard, regulation tour.
She showed me the craft rooms. La, la, la, la, la. At no time did she tell me that there was a waiting list of 150. That they could use another 80 acres for a second site, that they have a single provider, the state of Ohio, and that they could lose all of their funding. What she left out was where could I fit in. What could I do to help? Did I have a brother or son who needed care or a trust fund to infuse much needed cash? She never let me speak.
When we finished the tour, I started asking her questions. I asked her if they had enough sewing machines and fabric for their fiber arts room. She said no. My sister Nancy is an avid quilter. I knew that she and her quilt guild would be glad to send fabric and perhaps some sewing machines. I had no idea how they were funded. I didn't know what their challenges were. I didn't know what they needed. Ultimately, I didn't know where I could fit in.
For those of you who have been to London and ridden the tube or subway, the recording announces, "Mind the Gap." I have the same message. "Mind the Gap." Where is the gap and how can you bring it to the front of mind to the people who are touring? What is your vision?
It might sound something like this, "At xyz agency we are proud to serve 900 hot meals a day thanks to the generosity of our donors. Our goal is to serve 2000 a day. Many people in our parish are still going hungry. " The trick at this point is to stop walking and talking and wait for questions. If there are none, move on, however, you might just hear, "what do you need?" which is your opportunity to fill the gap with your wish list and give your visitor a way to get involved.
Start every tour with the following basic questions:
What do you know about our cause/organization?
How much time do you have?
Is there a particular aspect of our work you are most interested in?
Just as you give your visitors an opportunity to find out how they can financially fill the gap, you have to be able to tell them the vision for your clients or patrons. For instance, standing in an empty theater, your tour guide might say, "we would like every audience member to have the opportunity to experience something never before seen by an emerging playwright. Just imagine. Being in the audience when the new Tennessee Williams, the new David Mamet, the next Sam Shepard debuted a work that changed the face of theater. All in this lovely little space."
How does this all happen?
Well, first of all, every organization needs a wish list. It can include just about anything, from secretarial services to multi-million dollar buildings to tracts of land to diapers. It should be updated and circulated and everyone in the entire organization including clients and volunteers should have an opportunity to include items.
The next thing is to train your tour guides. You can't sell what you don't know. Clinique doesn't do it. IBM doesn't do it. Boeing doesn't do it. Why should you nonprofit do it? Tour training should include dispelling common misconceptions about your organization. I was doing some touring training for a senior facility recently and we asked the intake workers what the most common misconceptions were and then included them in the tour. The facility had been a home for retired nuns. The photos of Sisters who had lived in the home were featured in the entry way. I suggested they put photos of all of the married couples and the single men who were living there now and start the tour at that point with, "The most common misconception about our home is that we only serve one order. Twenty years ago, we expanded to 12 other others and 10 years ago, we opened to married couples. Today, 5% of our residents are men and 18% are not even Catholic. "
Summary: You have an amazing opportunity to get money, clients, and anything else on your wish list. You only have to allow your visitors to become a party of your organization. Let them speak, listen and share.
Is your organization "A Best Kept Secret?" check out how Carol can work with your board to spread the word.